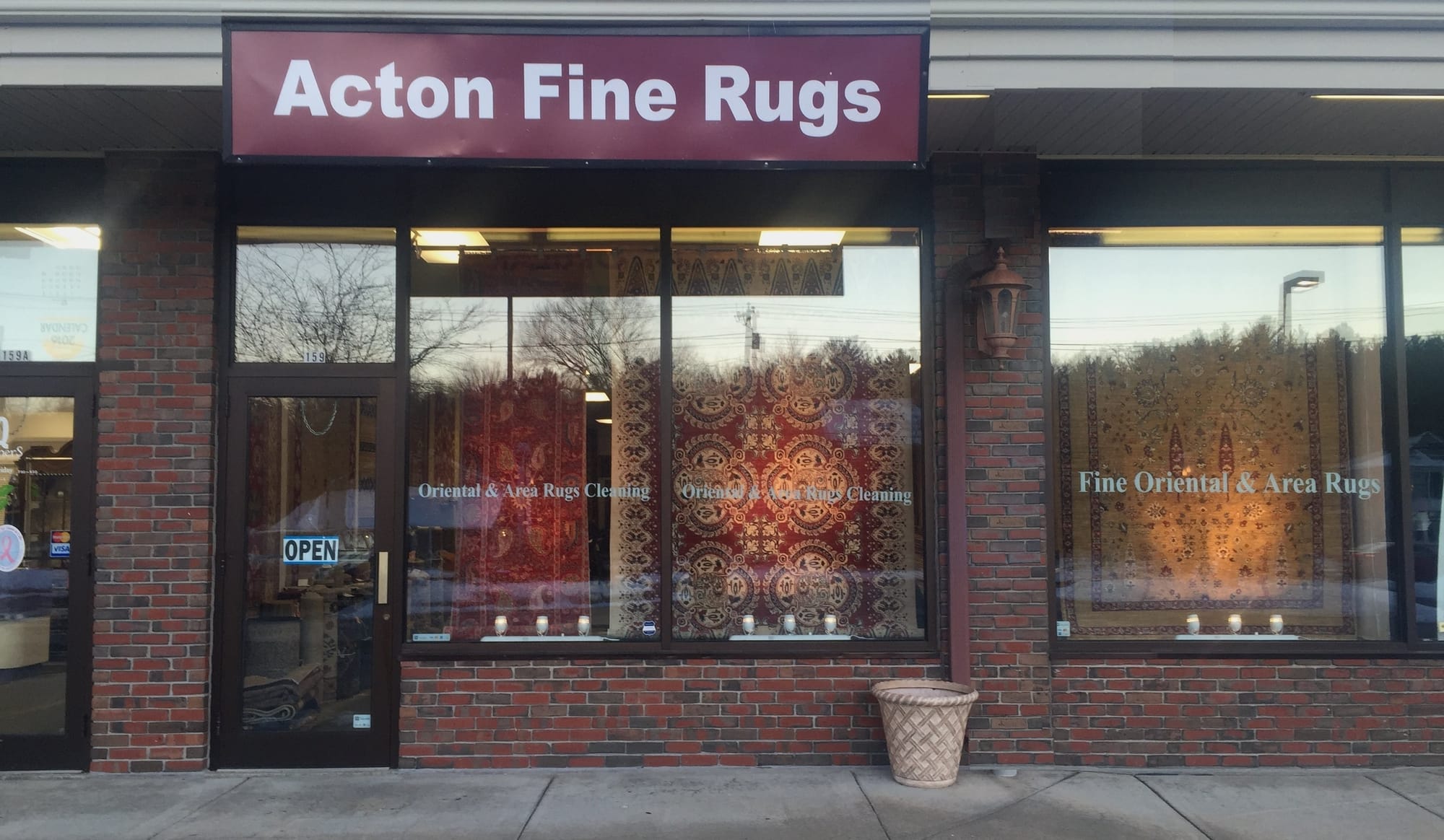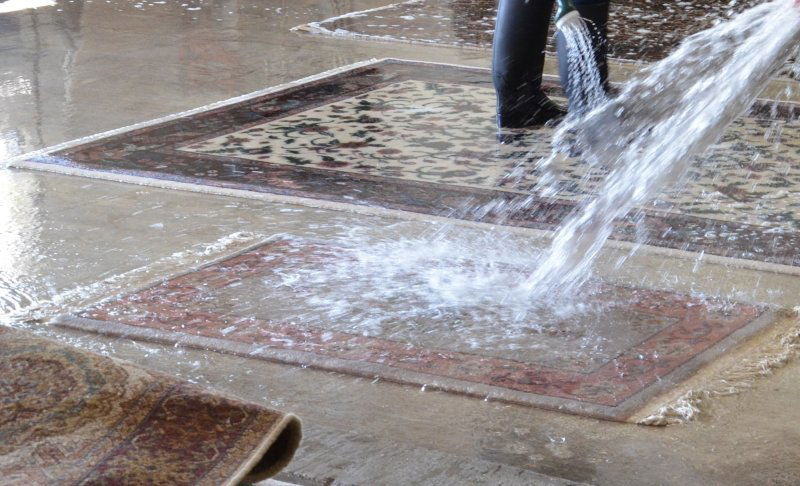 We are Bedford Rugs & Acton Fine Rugs
Bedford Rugs Cleaning & Washing Oriental Rugs
Antique oriental rugs and semi-antique oriental rugs of all types including Persian, Wool, and Tibetan area rugs, require professional knowledge and skill to clean. The information below will help you keep your oriental rugs beautiful for years to come. Bedford Rugs. will properly hand wash your area oriental rug. DO NOT use standard carpet cleaning companies for antique or semi-antique oriental rugs including Persian rugs, Tibetan, or Wool oriental rugs. These commercial cleaners use steam and abrasive chemicals that will destroy the lanolin, wool and color in your rug. A professional cleaning at Bedford Rugs will bring out the softness of the wool and the richness of color.
Bringing New Life to Fine Rugs
Bedford Rugs Cleaning specializes in professional treatment, restoration and preventive care of all types of Oriental rugs. Our deep knowledge of rug types, weaving, dyes and cleaning methods ensure that your precious rugs are treated with the appropriate techniques and handled with the utmost care.
Bedford Rugs uses hand-spotting techniques, state-of-the-art cleaning methods and equipment. We recommend professionally cleaning your rugs at least every one to three years, depending on the amount of traffic, environmental conditions and soil.
At Bedford Rugs, the cleaning process starts with inspection to determine which cleaning method is best for the rug, from hand-cleaning to dry extraction to a total submersion cleaning process . Next is dust removal via our duster vacuum or compressed air. We then pre-wash each rug using special spotting techniques, shampooing and/or pressure washing.
Each rug is gently dried most sophisticated, fully automated dry room. The final step is a careful inspection when we check the fringe and brush the pile.
There is no guarantee that we can remove all stains, spots or discolorations, but with proper care, Oriental rugs can last for generations.
Moth, Odor & Stain Treatments
Mustiness or minor odor problems caused by pets may be helped by our deodorizing treatment at the time of cleaning. But standard cleaning will not always remove pet odors. When a rug has been saturated with pet urine, we recommend a total submersion cleaning process combined with an odor eliminator enzyme treatment.
Color Run & Stain Removing
Stains should be dealt with by carefully dabbing and sponging with a wool or silk compatible cleaning solution until much of the substance is removed. The area should then be carefully dried. Never scrub or violently sponge the rug, as this may damage the pile and cause the colors to run.
Common Stains
Dog urine on any oriental rug whether its an antique or semi-antique rug or any other type damages both dyes and foundation and should be rinsed with tepid water and blotted on both sides of the rug immediately. Dark fibers may be more noticeably affected by dog stains and the solutions used in the removal of stains.
One of the main causes of mildew, a fungus that thrives on cotton, is the dampness caused by household plants placed on the rugs. If rugs are allowed to remain damp over a protracted period, the colors may run and mildew may form and cause permanent damage to the foundation or pile.
We Pick Up & Deliver
We offer a very convenient pick-up and delivery service or,
if you choose to bring your rugs in to us, you can save 10% on your Rug cleaning
We treat your rugs like they were our own.
Please Call or Text (978) 266-0010
or email: Rugs@bedfordrugs.com
Rug Cleaning Service Area
Abington rug cleaning Acton rug cleaning Allston rug cleaning Amesbury rug cleaning Andover rug cleaning Arlington rug cleaning Arlington Heights rug cleaning Ashland rug cleaning Auburndale rug cleaning Avon rug cleaning Ayer rug cleaning Babson Park rug cleaning Beachmont rug cleaning Bedford rug cleaning Belmont rug cleaning Billerica rug cleaning Bolton rug cleaning Boston rug cleaning Boxborough rug cleaning Boxford rug cleaning Bradford rug cleaning Bridgewater rug cleaning Brighton rug cleaning Brockton rug cleaning Brookline rug cleaning Burlington rug cleaning
Byfield rug cleaning Cambridge rug cleaning Cambridgeport rug cleaning Carlisle rug cleaning Charlestown rug cleaning Chelmsford rug cleaning Chestnut Hill rug cleaning Cochituate rug cleaning Cohasset rug cleaning Concord rug cleaning Dedham rug cleaning Devens rug cleaning Dracut rug cleaning Dunstable rug cleaning East Arlington rug cleaning East Boston rug cleaning East Bridgewater rug cleaning East Cambridge rug cleaning East Milton rug cleaning East Pepperell rug cleaning East Walpole rug cleaning Essex rug cleaning Everett rug cleaning Fayville rug cleaning Forge Village rug cleaning Foxboro rug cleaning Framingham rug cleaning Franklin rug cleaning Georgetown rug cleaning Groton rug cleaning Groveland rug cleaning Halifax rug cleaning Hamilton rug cleaning Hanover rug cleaning Hanson rug cleaning Harvard rug cleaning Hastings rug cleaning Haverhill rug cleaning Hingham rug cleaning Holbrook rug cleaning Holliston rug cleaning Hopedale rug cleaning Hopkinton rug cleaning Hudson rug cleaning Hull rug cleaning Ipswich rug cleaning Jamaica Plain rug cleaning Kendal Green rug cleaning Kenmore rug cleaning Lawrence rug cleaning Lexington rug cleaning Lincoln rug cleaning Littleton rug cleaning Lowell rug cleaning Magnolia rug cleaning Malden rug cleaning Manchester by the Sea rug cleaning Mansfield rug cleaning Marlborough rug cleaning Marshfield rug cleaning Maynard rug cleaning Medfield rug cleaning Medford rug cleaning Medway rug cleaning Melrose rug cleaning Merrimac rug cleaning Methuen rug cleaning Middleton rug cleaning Millis rug cleaning Milton rug cleaning Milton Village rug cleaning Nabnasset rug cleaning Natick rug cleaning Needham rug cleaning Needham Heights rug cleaning Newbury rug cleaning Newburyport rug cleaning Newton rug cleaning Newton Centre rug cleaning Newton Highlands rug cleaning Newton Lower Falls rug cleaning Newton Upper Falls rug cleaning Newtonville rug cleaning Nonantum rug cleaning Norfolk rug cleaning North Andover rug cleaning North Billerica rug cleaning North Cambridge rug cleaning North Chelmsford rug cleaning North Easton rug cleaning North Reading rug cleaning North Sudbury rug cleaning North Waltham rug cleaning Norton rug cleaning Norwell rug cleaning Nutting Lake rug cleaning Pembroke rug cleaning Pepperell rug cleaning Pinehurst rug cleaning Plainville rug cleaning Reading rug cleaning Revere rug cleaning Revere Beach rug cleaning Rockland rug cleaning
Roslindale rug cleaning Rowley rug cleaning Salem rug cleaning Saugus rug cleaning Saxonville rug cleaning Scituate rug cleaning Sharon rug cleaning Sherborn rug cleaning Somerville rug cleaning South Boston rug cleaning South Easton rug cleaning South Walpole rug cleaning South Waltham rug cleaning South Weymouth, rug cleaning Southborough rug cleaning Still River rug cleaning Stoneham rug cleaning Stoughton rug cleaning Stow rug cleaning Sudbury rug cleaning Tewksbury rug cleaning Topsfield rug cleaning Tyngsboro rug cleaning Village of Nagog Woods rug cleaning Waban rug cleaning Wakefield rug cleaning Walpole rug cleaning Waltham rug cleaning Watertown rug cleaning Waverley rug cleaning Wayland rug cleaning Wellesley rug cleaning Wellesley Hills rug cleaning West Acton rug cleaning West Boxford rug cleaning West Bridgewater rug cleaning West Concord rug cleaning West Groton rug cleaning West Medford rug cleaning West Newbury rug cleaning West Newton rug cleaning West Peabody rug cleaning Westford rug cleaning Weston rug cleaning Westwood rug cleaning Whitman rug cleaning Wilmington rug cleaning Winchester rug cleaning Winter Hill rug cleaning Woburn rug cleaning Wollaston rug cleaning Woodville rug cleaning Wrentham rug cleaning